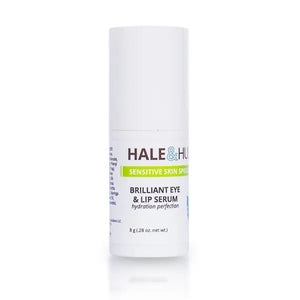 Hale & Hush
Brilliant Eye & Lip Serum
Regular price
$54.00
$0.00
Unit price
per
Brilliant Eye & Lip Serum from Hale & Hush
.25 oz
Hydration Perfection 
Brilliant Eye & Lip Serum is made almost entirely of liquid crystals, which are an essential component of cell membranes. Topical liquid crystal helps fortify, protect and condition the structure of delicate skin. With the highly intelligent antioxidant "spin trap" added, you have a truly brilliant formula that improves cell resilience. GLUTEN FREE

BENEFITS: Enhances lipid levels and barrier function by replenishing cholesterol. Provides superior cellular protection for mitochondria and DNA. Softens and conditions skin.

PRODUCT USAGE Gently pat a small amount of Brilliant Eye & Lip Serum onto skin around the eyes, crow's feet, lips or any dry areas until absorbed to accelerate hydration benefits.

CAUTION: Do not use if the skin is broken/cracked. For external use only. Avoid contact with eyes. Keep out of reach of children. KEY INGREDIENTS CHOLESTERYL NONANOATE, CHOLESTERYL OLEYL, CHOLESTERYL STEARATE: A liquid crystal fluid comprised of "cholesteryl", which is the form of cholesterol for cellular storage. Cholesterol is an essential component of cell structure, communication and biochemistry. Topical liquid crystal enhances skin's lipid levels, barrier function, softness and flexibility.

PHENYL T-BUTYLNITRONE (SPIN TRAP): Phenyl t-Butylnitrone (PBN) is an intelligent and powerful antioxidant compound known as a "Spin Trap" because of how it targets and traps free radicals to convert them to stable molecules that are no longer destructive for removal by the body or for reuse in various cellular processes. PBN is particularly effective against the aggressive hydroxyl and superoxide radicals to provide superior protection for mitochondria and DNA, which are especially susceptible to those two radicals.

Eclipta Prostrata Extract, Melia Azadirachta (Neem) Leaf Extract and Moringa Pterygosperma Seed Oil: These botanical extracts contribute to the serum's color as well as provide antimicrobial and conditioning properties.

INGREDIENT LIST Cholesteryl Nonanoate, Cholesteryl Oleyl Carbonate, Cholesteryl Stearate, Phenyl t-Butylnitrone (Spin Trap), Oryza Sativa (Rice) Bran Oil, Zea Mays (Corn) Silk Extract, Eclipta Prostrata Extract, Melia Azadirachta (Neem) Leaf Extract, Moringa Pterygosperma Seed Oil, Tropolone, 1,2-Hexanediol, Caprylyl Glycol.

Selected Review from Hale & Hush site: M. Kenyon This stuff is the holy grail!! Please do not ever stop making it because I can't live without:) My under eye area became very dry due to health reasons and nothing I tried remotely improved it. I tried masks, oils, and creams, multiple times per day with no luck but H&H eye and lip serum did the trick in less than two days of only nightly use. I'm having great success by using the mousse in the am and serum pm, love how the serum makes my lips feel too! I also use the rare c serum and hydrate mask which I'm absolutely amazed with. I'm telling all my friends about this line, it is literally for everyone!!

About Hale & Hush: Formulated for sensitive skin this line is gentile and effective. Whether you're looking to alleviate facial redness quickly or avoid irritating allergens and chemicals, Hale & Hush is amazing. The entire product line is specially formulated with gentle, highly therapeutic botanicals to correct problematic skin conditions while also restoring the delicate skin barrier.

All products in the line are free of animal testing, common skin irritants and toxins including gluten, sulfates, parabens, artificial fragrances, and harsh preservatives. They are oncology approved and safe for acneic skin. Created specifically for sensitive skin I hope that you love it as much as I do.

The line is based out of Arizona and I am certified through their product knowledge training.
---
Share this Product
---